Food for Thought Luncheon
Wednesday, August 9
11:30 a.m. – 1:30 p.m.
Music City Center
Karl Dean Ballroom

Not included in any registration. Tickets are $30 per person through July 14; $45 after July 14 and on-site. Available in limited quantity and are subject to selling out. Tickets can be purchased online through the registration portal.
Must present ticket for entry. If you arrive late, seating and/or meal service may no longer be available.
Keynote Presentation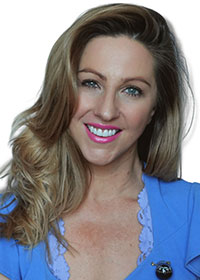 Amelia Rose Earhart 
Single-Engine Aircraft Pilot who Flew Around the World;
President of Fly with Amelia Foundation

Create Your Flight Plan for Team Success

As a boundary-breaking around the world pilot, Amelia Rose Earhart knows exactly what it takes to venture into uncharted territory; now she's sharing her one-of-a-kind perspective and strategy with you.
With the odds stacked against her, Amelia brought her own bold idea to life in 2014, piloting a small plane (Pilatus PC-12NG) 28,000 nautical miles around the globe. To accomplish this, Amelia self-funded her private, instrument and commercial flight training, went through open-water survival training, crafted a strategic business plan to design, fund and market her around the world attempt, helped to design and build a custom auxiliary fuel tank for the trip, grew a large and passionate social following to spread the word, raised close to $2 million in partnerships with 28 corporations, founded and ran a charity organization to send numerous teenage girls to flight school, and more. All this to honor the American hero she was named after: Amelia Earhart.
Recognitions
APCO Agency Training Program Certifications
Chapter Growth Number Membership Award
Chapter Growth Percentage Membership Award
Membership Density Award
Menu
Hearth-baked rolls
Classic Caesar Salad- chopped romaine, garlic focaccia croutons, shaved parmesan cheese, macerated Roma tomato wedge, chopped chives, classic Caesar dressing
Chicken marsala, roasted mushrooms, creamy baby spinach risotto, and lemon broccolini
Music City Center chess pie with bourbon barrel sugar crust & field berry sauce or
Layered dark & white chocolate mousse martini with chocolate pirouette & spiked whipped cream
Food for Thought Luncheon sponsored by