K9 Dog Demonstrations
APCO International's Annual Conference and Expo is the premier event for public safety communications officials, and we cannot leave out our four-legged partners on the frontlines! Be sure to stop by the Dog Demo area to see some of the finest canine "officers."
Participating Agencies
BNA Airport K9 Division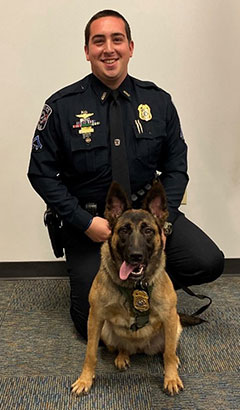 These demonstrators may have already been in your luggage, but there's so much more to get to know about them! K9 Havoc and Detective Kessler come to us from Nashville International Airport's (BNA) Criminal Investigation Division. One of two K9 teams in the division, these two are tasked with drug investigations within the airport. Working frequently with the Metro Nashville Police Department, Drug Enforcement Administration, Department of Homeland Security, and Federal Bureau of Investigation- K9 Havoc has detected about 80 lbs of meth, 16 lbs of fentanyl, and 6,000 lbs of marijuana in her lifetime and doesn't appear to be slowing down anytime soon. K9 Havoc's main duties include narcotic detection and human trafficking interdiction among the thousands of patrons coming and going from BNA. She and her handler ensure each passenger arrives and returns safely, even if they never know they're there.
Bureau of Alcohol, Tobacco, Firearms, and Explosives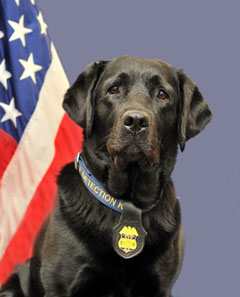 The Bureau of Alcohol, Tobacco, Firearms, and Explosives is a federally certified agency providing accelerant and explosive K9 support across the country. With over 300 trained canines and 21 Agents/Handlers, the department works with explosive detection throughout the US and has deployed to 13 different countries.
ATF Explosives Detection Canines are certified and trained by ATF to find explosives and firearms-related evidence. The K-9's nose is a major asset, making them capable of detecting up to 19,000 explosives combinations. A major advantage of using the K-9 is their mobility. Their duties include working side by side with Federal agents and local police officers to seek out explosives, guns, and spent ammunition evidence in violent crime investigations. In addition, they secure major public events, schools, and Federal buildings, worldwide by searching for explosives in the areas. With us at APCO 2023 is K9 Corey, and Special Agent Lancelot Mullen.
K9 Corey was also born on July 13th, 2019, and was litter mates with K9 Honey with the TBI. A black Labrador retriever, K9 Corey also graduated training from the ATF National Canine Center in Front Royal, VA. Assigned to the Nashville Field Division upon training graduation, Corey is trained to find explosives, guns, and ammunition and is a certified Enhanced Evidence K9 through the S.E.E.K Program. K9 Corey is able to work off leash up to 150 yards away from her handler and can detect more than 19000 distinct odors.
Within a few months of arriving in Nashville, K-9 Corey made an immediate impact by supporting local police investigations and finding discarded crime guns that were linked to violent crimes.
K-9 Corey also helped to identify shooting scenes by locating fired cartridge cases during local crime scene investigations.
Metro Nashville Police Department

The Metro-Nashville Police Department Canine Section was established in 1972 with approximately 6 dog teams that specialized in criminal apprehension. Their responsibility grew when they added explosive detection in 1975 and then narcotic detection in 2004-2005. The MNPD Canine Section is one of the few K9 sections in the state that deploy dogs 24/7/365. This section is also one of the few sections in the state that train dog teams in-house instead of contracting that responsibility to an outside agency/company.
The Metro Police Canine Unit consists of over 16 canine teams. The teams are trained in patrol work as well as cross-trained in narcotic or explosive odor detection. The Canine Unit is part of the Tactical Operations Section of the Special Operations Division. The Canine Unit is a 24-hour-a-day, 7-day-a-week unit.
The Metro Nashville Police Department evaluates and purchases dogs from vendors throughout the United States after being imported from Europe.
Metro Nashville Police Canine Teams are trained in-house by our training staff. They are trained in voice and hand signal obedience, building searches for felons, felony tracking, article searches, pursuit/apprehension techniques as well as handler protection. Our canine teams make countless arrests and answer thousands of calls for service each year.
Once the Canine team has passed the patrol dog certification, they go through twelve weeks of odor detection training. The Canine Unit trains detector dogs for the purpose of locating either narcotics or explosives. The canines, which are cross-trained in explosive detection, assist in security sweeps for many large high-profile events, as well as responding to calls for suspicious items or packages. The teams that are cross trained in narcotics detection are utilized to search for drugs by all elements of the police department. Each canine team certifies annually to meet the continuing proficiency standards of the USPCA in addition to their regular monthly scheduled ten-hour patrol dog training sessions. The teams are very successful, and their efforts have resulted in seizures of drugs, currency, and property. Visiting APCO 2023 is Lieutenant James Jones with specialized K9 demonstrations on Monday and Tuesday.
Tennessee Bureau of Investigations

The Tennessee Bureau of Investigations (TBI) Criminal Investigations Division is considered the heartbeat of the Bureau. Working across the State of Tennessee to handle a variety of investigations and assist local departments to ensure and improve the safety of communities across the state. The CID division has more than 1500 active cases, in which agents strive to provide the most professional and all-inclusive investigations by employing state-of-the-art equipment and methods. This includes the utilization of K9 Agents of various specialties when needed. With us at APCO 2023 is K9 Honey and Agent Jeff Mosley.
K9 Honey was born on July 13, 2019, and was raised as part of the 'Puppies Behind Bars' program. In 2020, Honey was selected by the Bureau of Alcohol, Tobacco, Firearms and Explosives (ATF) to begin training as an Accelerant Detection Canine in Front Royal, Virginia. In November 2020, Honey was paired with TBI Special Agent Jeff Moseley. Honey trained with her partner for several weeks at the ATF Canine Training Center before graduating in December 2020. Honey is assigned to Middle Tennessee and is based out of TBI Headquarters in Nashville. When Honey isn't on duty, she enjoys lounging on her family's couch and playing with her best friend Johnny, a chocolate lab.
Williamson County Sheriff's Office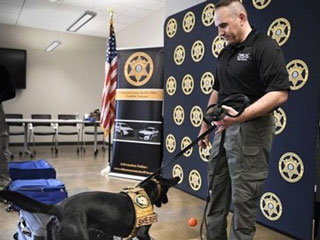 K9 Remi and Detective Eaves represent the Williamson County Sheriff's Department. Remi, a 7-year-old black Labrador retriever specializes in smelling electronics such as cell phones, tablets, flash drives, and even SD Cards. At her introduction to the sheriff's office in May of 2018, Remi was the first and only electronics detection K9 to be placed into service in the entire state of Tennessee. Along with Detective Eaves, some of Remi's jobs include assisting on WCSO's Internet Crimes Against Children Task Force, detecting evidence for a variety of internet crimes ranging from child predators to sex crimes. Remi and Detective Eaves can also be found participating in community outreach, using Remi to teach school children and community groups about the dangers of the internet, cyberbullying, and even offering emotional support to victims of crimes.